Film: Television,
Director: Mostofa Sarwar Farooki,
Cast: Nusrat Emroz Tisha, Chanchal Chowdhury , Mosharraf Karim, ,
25 January 2013 Film: Devdas,
Director: Nazrul Islam,
Cast:Arifa Parvin Moushumi, Apu Biswas, Shakib Khan,
15 February 2013 (India), 1 March 2013 (Bangladesh)
Film of Bangladesh: : Simanaheen,
Director: Kevin Dalvi,
Cast: Ismat Alamgir, Rahsaan Islam, Ria Mahtab,
15 February 2013
Film: Shirin Farhad,
Director: Gazi Mahbub,
Cast: Shabnoor, Riaz, Drama,
22 March 2013
Film: Dehorokkhi: The Bodyguard,
Director: Iftakar Chowdhury,
Cast:Anisur Rahman Milon, Eamin Haque,
12 April 2013
Film of Bangladesh: : Jotil Prem,
Director: Shahin-Sumon,
Cast: Achol, Bappy Chowdhury,
14 May 2013
Film: Nishpap Munna,
Director: Bodiul Alam Khukon,
Cast: Misha Shadogor, Shahara, Shakib Khan,
31 May 2013
Film: Judge Barrister Police Commissioner,
Director: F.I Manik,
Cast:Razzak, Shakib Khan, Purnima,
10 May 2013
Film of Bangladesh: : Eito Bhalobasa,
Director: Shahin Kabir Tutul,
Cast: Nirob, Nipun, Siddiqui, Mamnun Hasan Emon,
28 May 2013
Film: Romeo,
Director: Raju Chowdhury,
Cast: Sara Zarin, Bappy Chowdhury,
7 June 2013
Film: Pora Mon,
Director: Zakir Hossain,
Cast: Mahiya Mahi, Anisur Rahman Milon, Symon,
14 June 2013
Alpo Alpo Premer Golpo, ,
Cast: Niloy, Anika Kabir Shokh,
2013
Film of Bangladesh:  Chaya Chobi,
Mohammad Mostafa Kamal,
Cast: Purnima, Arefin Shuvo,
4 August 2013
My Name Is Khan,
Director: Bodiul Alam,
Cast: Pobir Mitra, Shakib Khan, Apu Biswas,
8 August 2013
Nishwartha Bhalobasha,
Director: M.A Jalil Ananta,
Cast: Afiea Nusrat Barsha, M.A Jalil Ananta, Abdur Razzak,
17 May 2013
Film of Bangladesh:  Bhalobasa Aaj Kal,
Director: P.A Kajol,
Cast: Mahiya Mahi, Shakib Khan,
8 August 2013
Purno Doirgho Prem Kahini,
Director: Safi Uddin,
Cast: Joya Ahsan, Shakib Khan, Arefin Shuvo,
12 October 2013
Bhalobasha Zindabad,
Director: Debashish Biswas,
Cast: Airin Sultana, Arefin Shuvo,
12 October 2013
Film of Bangladesh: Noi Choi,
Cast: Ferdous Ahmed,
14 November 2013
Romance,
Director: Anonno Mamun,
Cast: Durjoy, Marjan, Anisur Rahman Milon,
26 November 2013
Film: Porobashinee,
Director: Swapan Ahmed,
Cast: Nirob, Mamnun Hasan Emon, Mehazabien Chowdhury,
12 August 2013
Film: Story of Samara,
Director: Rikia Masudo,
Cast: Jannatul Ferdous Peya, Anju,
July 18, 2013
---
Film of Bangladesh : Gohine Shobdo
Story by: Khalid Mahmud Mithu and Faridur Reza Sagor.
Director: Khalid Mahmud Mithu.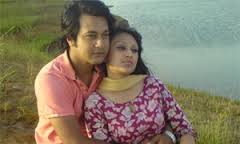 Produced by: Impress Telefilm Ltd
Cast: Emon and Kushum Shikdar, Abul Hayat
Music Director: Farid Ahmed
Released: 23 March, 2010
Story: The film Gohine Shobdo is on a freedom fighter. Nura is a street beggar. The beggar participate took part in the liberation war and lost his one leg. But his dream is to educate his daughter.
This film received international film award " Third World Film Festival"
---
Film of Bangladesh : Doriya Parer Doulati 
Dirctor: Abdullah Al Mamun
Cast: Popy, Manna, Abdullah Al Mamun, Ferdousi Majumder, Shaidul Alam Sachchau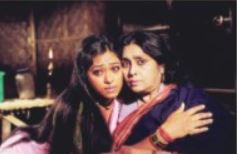 Music Director: Ali Akbar Rupu and Arman Khan
Story: People of Hatia try to build a barrage to people and houses from tidal waves.
Shooting Location: Hatia, Tangail and FDC
---
Film of Bangladesh : Amar Bondhu Rashed
Written by: Dr Mohammad Jafar Iqbal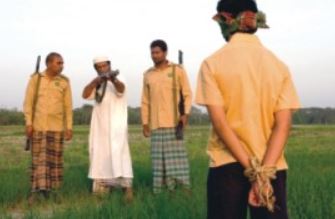 Dirctor: Morshedul Islam
Produced by: Impress Telefilm Ltd
Cast: Chowdhury Zawat Afnan, Rayan Ibtesham Chowdhury, Likhon Rahi , Faiyaz Bin Zia,Arman Parvez Murad
Story: Children film on Liberaton war of Bangladesh in 1971
---
Film of Bangladesh | Joyjatra
Film: Joyjatra (Year: 2004, Language:Bangla, English subtitles)
Director: Tauquir Ahmed
Cast:Abul Hayat, Humayun Faride, Tareeq Anam Bipasha Hayat, Shams Sumon, Mahfuz Ahmed, Azizul Hakim
Script and Director:Tauquir Ahmed
Photography : Rafiqul Bari Chowdhury
Story: The film based on Amjad Hossain's novel Obelay Osomoy, Liberation War of Bangladesh begin, Pakistani occupation forces attack a small village and burn the houses of the innocent people. The villagers' idyllic existence changes forever. The survivers have to embark their ancestral homes on a journey to reach a camp where they can be trained professionally in guerrilla warfare so that they can fight the enemy. There is nothing but a small boat that gives them hope to reach another life. The journey of the people has been termed Joyjatra means journey for victory
---
Deshantori (The Migrant )
One boat, 42 lives; 17 dead, 25 waiting to die — they have been floating on the sea for about 10 days without food or water. One looks at another as potential "food" and wonders which part of a dead-body may be easier to swallow, while another took his last breath to look for something sharp enough to cut up a dead-body.
---
9 Number Bipod Sonket
Bangla film 9 Number Bipod Sonket performed by actress Diti, Taniya Ahmed,  Rahmat Ali, Jayanto Chattopadday, Challenger, Shadin Khasru, Shobnom Parbeen, Chaiti, Majnun Mizan, Rupok, Taniya Sultana Munni, Sohel Khan and Asaduzzaman Noor.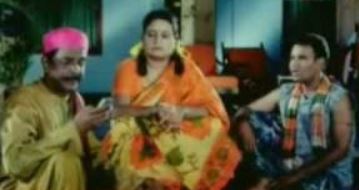 Music: SI Tutul
Director: Humayan Ahmed
Producer: Faridur Reza Sagar
---
Nagordola
Starring: Humayun faridi, Sweety, Fazlur Rahman Babu, Lucky Inam, Shahidul Alam Shachu and more