CID – Criminal Investigation Department of plice has interrrogated the son of a Army officer in the connection Tonu Marder.
The son of Army officer name is Piyal, student of a private university, used to harass Sohagi Rahman Tonu, said Officer-in-Charge AKM Manzurul Alam of Comilla Detective Branch (DB) of police, according to Tonu's father.
Updates:
Tonu's body took out for autopsy again
Sohagi Jahan Tonu body has been dug out for fresh autospy from their family graveyard at Mirzapur of Muradnagar upazila on March 30, 2016 at 12pm. Tonu's body has been sent to Comilla Hospital for fresh report of her murder and rape. Earlier, Additional Chief Judicial Magistrate Joynab Begum gave the order on Monday 28, 2016 after hearing Detective Branch OC Md Manjur Alam's plea.
Tonu case investigation transferred to CID, the CID teams came from Dhaka, visited Tonu murder area.
ISPR press release on Tonu
ISPR issued a press release on March 29, 2016 saying, "Tonu's Father Md Yaar Hossain has been a civilian staff of the Comilla Cantonment Board for the past 30 years. He is a member of the army family and Tonu was brought up in Comilla Cantonment. She a child of ours." ISPR said "every member of the army is extremely sad" over the incident.
---
Sohagi Jahan Tonu, a second year student of History Department of Comilla Victoria College and member of Comilla Victoria College Theatre, was found dead Alipur area in a bush beside a culvert inside the Comilla Cantonment safe area on March 20, 2016 night.
Tonu, a 19-year old girl head was smashed by stones and she had not been raped. according to Post-mortem examination report.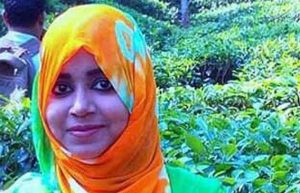 Tonu family said she used to do tuition for maintain here education expenses. She went to one of her student's house at Alipur near Comilla Cantonment on that day afternoon and did not return home in time. Sohagi Jahan Tonu had left her student's house at 7:30pm on Sunday March 20, 2016 for her home, but did not get reach home. Policerecovered her body of Tonu from a bush at 10:00pm. Tonu was buried at her village home at Mirzapur, Muradnagar Upazila.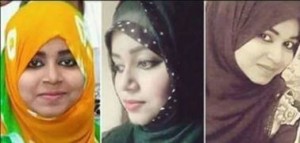 Tonu father Year Hossain, a 4th class employee at Cantonment Board filed a case against some unidentified people with Kotwali Police Station on Monday March 21, 2016.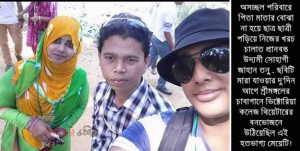 Protest for Tonu Rape muder accross the country
Students and general people across the country have been demonstrating in different cities and educational institutions demanding trial of the rapist and killers of Comilla Victoria College student Sohagi Jahan Tonu.
Leaders of different political parties of Bangladesh andmembers o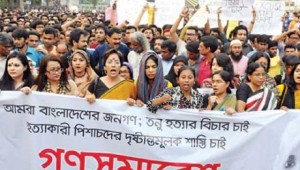 f cultural organizations expressed deep shocked with the demonstration in the capital city Dhaka also. Ganajagaran Mancha at Shahbagh, Dhaka took part in a rally demanding justice for Tonu. Nari Sanghati, Bangladesh Chhatra Union & Bangladesh Chhatra Federation also held protest programmes in Dhaka.
Comilla Victoria College Theatere also light candles at Kandirpar in the evening, protesting the murder and demanded arrest of the killers. Demonstrators of Comilla Districts submitted memorandums to Comilla Deputy Commissioner and police superintendent in this regardThe students of Jagannath University (JU) in Dhaka and Islamic University (IU) in Kushtia formed human chains on the university campuses March 24, 2016 protesting the murder and rape of Sohagi Jahan Tanu.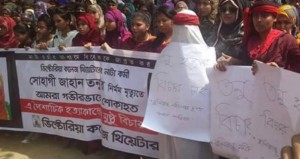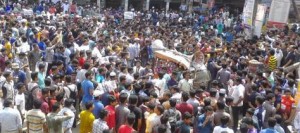 The Samajtantrik Chhatra (SC) Front also formed a human chain in front of National Press Club, Dhaka protesting the murder and demanded arrest of the killers of Tanu.
At Rajshahi University (RU) students formed a human chain on the university campus demanding the immediate arrest and punishment of the rapists and killers of Sohagi Jahan Tonu.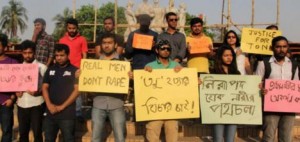 Users of Facebook, Twitte, google+ and other social networking have erupted in furore in no less intensity. They have criticized delya of arrest of killers.
Users of Facebook organized an event titled 'We Are Tonu' has called for a mass protest at the Dhaka University's TSC chattar at 4pm on March 24, 2016.
Note: We did not find any real video on tonu life or murder ever rape, if you see any video on social networking sites, do not believe them. These video and body with blood on tonu are fakes. But we found few pictures on tonu and after tonu killed just share with you.