Beximco is the country's largest group With $834 million in revenue, 45,000 employees and a market capitalization of $1.7 billion on the Dhaka Stock Exchange. It was born when the country was in the midst of a bloody battle for independence from Pakistan. When Bangladesh appealed for international aid in 1971, Henry Kissinger, the US national security advisor to the Richard Nixon administration, then in power, famously dismissed the idea saying, "the place is, and will always be, a basket case."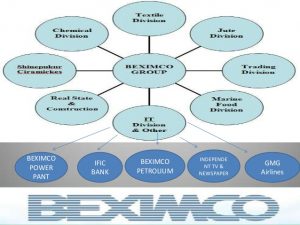 A few years earlier, in 1966, the Rahmans' (Sohail Rahman, chairman, and Salman Rahman, vice chairman of Beximco) father Fazlur Rahman, died leaving a small jute mill in south Dhaka to Sohail Rahman, the magazine reported. The mill was in debt and not doing much business. From 1966 to 1971, Sohail Rahman slashed the company's debt and increased output. He had planned to make the mill entirely export oriented when the war for independence broke out.
By then the jute mill had been put back on its feet, and "might even had turned out to be a comfortably profitable family business had history been different," Fortune wrote. The report said that the Rahman brothers had to wait for the government to "relax its rules and privatise some jute mills" before the factory was returned.
"Not that the brothers sat back and waited for their inheritance to be returned. Soon after nationalisation they realised that although jute was the golden fibre, they had to look elsewhere if they had to prosper in their new country. Staying far away from jute and allied products, the brothers set up the Bangladesh Export and Import Company-BEXIMCO- in 1972.
"They started by exporting sea food as well as crushed bones to pharmaceutical companies in Belgium, France, Britain, Germany and the Netherlands. In turn they imported medicines. The business proved almost instantly successful, generating an annual turnover of around $30 million."


The Fortune report says that the fallout of political turmoils "has occasionally hurt the Rahmans. Although the brothers claim to eschew politics, they have always been involved with politicians.
"Politics is perhaps a convenient sideshow. The Rahman brothers' focus has always been on business," the report stated.
Paying rich tribute to the business acumen and foresight of the Rahman brothers, the magazine recounted how Beximco has made its foray into new fields one after another and continued to grow. "In 1976 the Rahmans set up Beximco Pharmaceuticals, which began operations in 1980. The company was listed on the Dhaka Stock Exchange in 1985, and in 2005, became the first Bangladesh company to list on London's Alternative Investment Exchange. Between 1980 and 2006 the Rahman brothers were on a diversification spree. Chemicals, pharma, banking, textiles…. It seemed there was no industry without Beximco."
"Shifts in political power see business interests being directly affected, with arrests, political exiles and, sometimes, assassinations. An economist in Dhaka says that a volatile political system compromises the nation's potential. And as the country enters a phase of growth that some describe as 'India, 15 years ago', watching how Beximco is navigating its growth tells a story of new opportunities. Old economy opportunities such as textiles and pharmaceuticals are no longer interesting. It's the new sectors such as media, hospitality, aviation, and retail that could mirror India's growth pattern."
"It's easier for me to export to the U.S. than it is to India," says Sohail Rahman, Chairman of the group. That's why Beximco operates sa1es offices out of New York and Dallas. It has a1so invested $25 million to bui1d a pharmaceutica1 inha1er p1ant in Jubail, Saudi Arabia, and 1aunched two retai1 garment stores under its brand name 'Yellow' in Pakistan, with p1ans to go to China and the Far East.
Beximco has 169 foreign employees from 20 countries, including India, the U.S., Spain, Italy, Colombia, Britain, and Pakistan.
"To achieve a global footprint, we'll have to take our hub outside of Bangladesh," says Shayan Rahman, director with Beximco. He says the group is in the process of looking at setting up manufacturing in the Gulf Cooperation Council countries, while maintaining Bangladesh as a base.
Today, Beximco controls GMG Airlines, a troubled private carrier with eight planes, including two 767 jets that they snagged for $71 million (as part of an equity infusion that became a majority stake) in 2009. "Initially, we thought it'd be like a PE play. Restructure it and then have a profitable exit," he says. But that changed after the group brought on global management consultants Bain & Co. to run the project and they saw its potential.
"Domestic growth which has potential is still limited for a group like ours that is ambitious and wants to get to the next level," says Salman Rahman. "If you take a look at the Indian conglomerates for example, phase two for all of them shows exponential growth."
FROM THE AIR, THE 200-ACRE Beximco Industrial Park in Sarabo could belong to any developed nation – a perception that continues on the ground. There's an executive enclave with a basketball court, a swanky gym, geese swimming languidly in a placid lake, and an enclosure with spotted deer. Move away from the industrial park, however, and the scene is vastly different. A muddy stream meanders sluggishly through paddy fields and there's little to show that this is home to Bangladesh's biggest conglomerate, the Beximco Group.
Ten years ago, when the Rahman brothers came to Sarabo near Dhaka, there was nothing but the fields and stream. "We had to get the local boys to ferry us in their boats to check out the land," says 60-year-old Salman Rahman, Beximco Group's vice chairman.
The progress made in the past decade has been swift; the soggy land has been drained and Beximco's ceramics and textiles factories stand on it. Some 8,000 workers flock to the site every day to churn out bone china crockery, cloth, and jeans. The textile factories run the gamut of operations from spinning and weaving to dyeing and finishing garments.