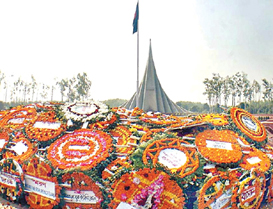 Bangladesh celebrated the 49th Victory Day on December 16, a pledge to fulfil the desire of the freedom fighters by ensuring peace  in the country and by fulfilling the spirit of the War of Liberation. December 16 is a public holiday. Bangladesh government, all political parties and social and  cultural organizations celebrated the day through various programmes. The nation observed the day with new dimension  following the execution of one of the war criminals convicted for committing crimes against humanity in 1971.
---
Thousands of people from all spheres of life, irrespective of religion, gender and age, gathered the National Memorial at Savar from dawn to pay high tributes to the heroic sons of the country, who made supreme sacrifices for Independence of Bangladesh. People who went to the National Memorial could be seen standing in a long queue to place wreaths at the memorial till noon.
On this day in 1971, Pakistani army had surrendered to the joint forces of the Indian army and freedom fighters after a nine-month bloody war, resulting in the emergence of an independent, sovereign Bangladesh.
President, Prime Minister and Leader of the Opposition paid rich tributes to the martyrs of the Liberation War by placing wreaths at the National Memorial.
The Chief Justice, the deputy leader of Parliament, ministers, the deputy Speaker, state ministers, chiefs of the Army, Navy & Air force, Members of Parliament (MPs), freedom fighters, diplomats, representatives of different organizations and high-ranking civil and military officials, among others, also placed wreaths at the National Mausoleum.
The Prime Minister released a commemorative postage stamp & a first day cover at her official Gonobhaban residence, marking the 49th Victory Day.
The national flag of Bangladesh was hoisted at all public and private buildings across the country on the occasion.
Meanwhile, President accorded a reception to freedom fighters at Bangabhaban in the afternoon.
Most of the Newspapers published special supplements while state-run and private radio & television channels broadcast special programmes, highlighting the significance of the day. Special prayers were offered at mosques, temples, churches, pagodas and other places of worship to seek divine blessings for the country's peace and progress.
A children's rally was staged at the Bangabandhu National Stadium while an arms exhibition was arranged at the National Parade Square.
Poor children were allowed to visit Shishu Park in the city free of cost. Good food was served in jails, hospitals, orphanages and vagrant homes across the country.
Important government building, main roads divider, traffic islands in the capital have been decorated with red and green colors light and national flags .