Dhaka Trade Fair (DITF) 2016 started on January 1 at Sher-e-Bangla Nagar, Dhaka, Bangladesh. Prime Minister Sheikh Hasina inagurated Month long Dhaka International Trade Fair 2016. About 22 countries have participated in this year Dhaka trade fair organized by the Export Promotion Bureau (EPB).
Bangladesh will fetch more export orders in the year 2016. The fair garnered orders worth Tk. 85 crore in 2015 and Tk. 80 crore in 2014, down from Tk. 157 crore in 2013. Dhaka Trade Fair is scheduled to open from 10:00am to 10:00pm every day. Organisers expect an average of 100000 people to visit Dhaka International Trade Fair 2016 every day.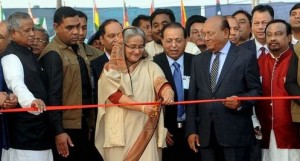 Dhaka Trade Fair 2016 entry fee has been set at Tk. 30 for adults and Tk. 20 for children. There are 553 stalls and pavilions at the DITF-2016 this year, 56 of stall or pavilions have been allotted to foreign countries.
There are many categories of local and international products will be displayed at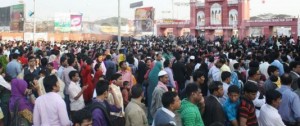 the fair are Machinery,ceramics, fabrics, processed food, carpets, electronics, jute items, leather and sports goods, sanitary products, cosmetics and beauty products, toys, furniture & handicrafts and more.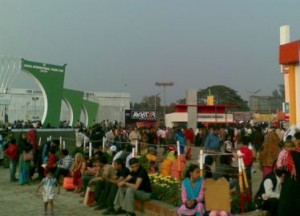 There are 11 1 close circuit cameras in & around the fair area to ensure security, Organisers said. The commerce minister said the Dhaka International Trade Fair (DITF), which is being organised at Sher-e-Bangla Nagar of Dhaka for over 20 years, will be shifted permanently to Purbachal area in 2018.
Space and Rents/Charges/ Floor rate (Local & Foreign) :

Serial No
Type/category of Pavilion/Stall/Restaurants
Size
Application Processing Fee
Floor Rate

(Lowest Price of Rent/ Royalty)

1
General Pavilion/Reserve Pavilion (GP/RP)
(50'x50′)
Tk. 15,000/-
Tk. 1000000/-
2
Premier Pavilion (PP)
(50'x50′)
Tk. 15,000/-
Tk. 1500000/-
3
Foreign Pavilion (FP)
(50'x50′)
US $ 300
US $ 14500 (Fixed)
4
General Mini-Pavilion/Reserve Mini Pavilion (GMP/RMP)
(25'x25′)
Tk. 12,000/-
Tk. 600000/-
5
Premier Mini-Pavilion (PMP)
(25'x25′)
Tk. 12,000/-
Tk. 800000/-
6
Foreign Mini Pavilion (FMP)
(25'x25′)
US $ 200
US $ 9000 (Fixed)
7
Restaurant
(50'x50′)
Tk. 10,000/-
Tk. 1000000/-
8
Premier Stall (PS)
(18'x20′)
Tk. 6,000/-
Tk. 420000/-
9
Foreign Premier Stall (FPS)
(18'x20′)
US $ 100
 US $ 5700 (Fixed)
10
General Stall/Food Stall (GS/FS)
(15'x20′)
Tk. 6,000/-
Tk. 195000/- (Fixed)
Contact address:
DITF 2016
Director
Dhaka Int'l Trade Fair-2016 Secretariat
Export Promotion Bureau, Bangladesh.
1, Kawran Bazar, TCB Bhaban (4th Floor), Dhaka-1215, Bangladesh.