The 23rd Dhaka International Trade Fair  closing ceremony was held on 4th February 2018 after a 4 days extension. Commerce Minister Tofael Ahemd was the chief guest of the ceremony.
DIFT 2018 Achievement.
Total Export Order: Tk. 1.60 billion.
Local Trader Business: Tk. 870 million.
Performance Awarded: 43 pavilions, stalls and organisations.
Total Stalls: 589.
Premium pavilions: 64 ,
Foreign pavilions : 27 and
Mini foreign pavilions: 8.
Total Foreign Participants: 44 including the United States, the United Kingdom, China, India, Bhutan, Pakistan, Nepal, Japan, Australia, Germany, Hong Kong & the Arab Emirates.
Bangladesh government is constructing a permanent Trade Fair venue at Purbachal over 35 acres of land with a budget of Tk 5.0 billion, Minister Said.
The Bangladesh government has extended the duration of Dhaka International Trade Fair – DITF, 2018 by 4 days,  closed on February 4, 2018.
Dhaka Trade Fair 2018 (DITF) started on January 1 at Sher-e-Bangla Nagar, Dhaka, Bangladesh. Prime Minister Sheikh Hasina inaugurated Month long Dhaka International Trade Fair 2018. About 17 countries have participated in this year Dhaka trade fair organized by the Export Promotion Bureau (EPB).
Bangladesh will fetch more export orders in the year 2018.  Dhaka Trade Fair is scheduled to open from 10:00am to 10:00pm every day. Organizers expect an average of 100000 people to visit Dhaka International Trade Fair 2018 every day.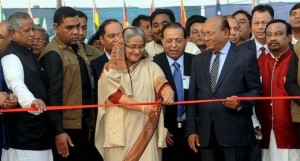 Dhaka Trade Fair Entry Fee
Dhaka Trade Fair 2018 entry fee has been set at Tk. 30 for adults and Tk. 20 for children.
DITF Total Stalls
A total of 589 stalls allocated for exhibitors in the year 2018. 112 are pavilions, 77 are mini pavilions and 400 are stalls.  Among them, 43 stalls have been reserved by foreign companies.
There are many categories of local and international products will be displayed at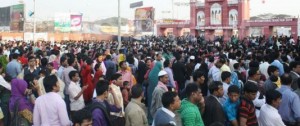 the fair are Machinery,ceramics, fabrics, processed food, carpets, electronics, jute items, leather and sports goods, sanitary products, cosmetics and beauty products, toys, furniture & handicrafts and more.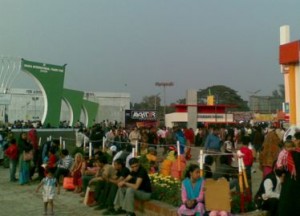 There are 11 1 close circuit cameras in & around the fair area to ensure security, Organisers said. The commerce minister said the Dhaka International Trade Fair (DITF), which is being organised at Sher-e-Bangla Nagar of Dhaka for over 20 years, will be shifted permanently to Purbachal area in 2018.
Food Price in the Dhaka Trade Fair
Be careful about the foods, if you like to take foods from any restaurant, you must ask price before eating, there were complained by visitors in the previous years, the restaurant authorities try to take high price for a normal food. For example, if you want to buy Biriany, Nomally, it price is 120 to 200 taka in the local shop, but the price is 500 to 1000 taka in the restaurants in  Dhaka Trade Fair. How is possible?  Not only that, they will ask you to pay 15% for VAT as an Extra.
Dhaka Trade Fair Related organizations or associations contact address and Number 
The Federation of Bangladesh
Chember of Commerce and Industry
60, Motijheel Commercial Area,
Dhaka-1000,Bangladesh
Tel:880-2-9560120-3,9551233
Fax:880-2-7176030,9560588
The Dhaka Chember of Commerce and Industry
65-66, Motijheel C/A
Dhaka-1000, Bangladesh Tel:880-2-9554983,9552562
Fax:880-2-9560830,9560732
Metropolitan Chamber of
Commerce and industry
122-124, Motijheel C/A,
Dhaka-1000, Bangladesh
Tele:880-2-9565208-11,7161028-29
Fax:880-2-9565212,9565211
Bangladesh Chamber of Industry
BCIC Bhaban
30-31, Dilkusha C/A
Dhaka-1000,Bangladesh
Tele:880-2-9551669,9565345
Fax:880-2-9564170
National Board of Revenue
Dhaka, Bangladesh
Tel:880-2-8318120,8318101-08
Fax:880-2-8316143
E-mail:[email protected]
Website:www.nbr-bd.org
Bangladesh Bank
Head Office
Motijheel Commercial Area,Tea Board bhaban
Dhaka-1000, Bangladesh
Tel:880-2-7126101-20
880-2-7126280-95
Fax-880-2-9566212
Chief Controller of Import and Export Government of Bangladesh
111-113, Motijheel Commercial Area,
Dhaka-1000, Bangladesh
Tel:880-2-9551556,9558427
Fax-880-2-95502217
Chittagong Custom House
Chittagong Bangladesh
Dhaka Custom House
Kurmitola,Dhaka,Bangladesh
Tel:880-2-8911101
88-031-713919
Fax:88-031-713988
880-2-8911132
Department of Immigration and Passport.
Government of Bangladesh
Agargaon,Sher-e-Banglanagar
Dhaka,Bangladesh
Tel:880-2-8159878
Fax:880-2-9123399
Dhaka Trade Fair Space and Rents/Charges/ Floor rate (Local & Foreign)  (2017):

Serial No
Type/category of Pavilion/Stall/Restaurants
Size
Application Processing Fee
Floor Rate

(Lowest Price of Rent/ Royalty)

1
General Pavilion/Reserve Pavilion (GP/RP)
(50'x50′)
Tk. 15,000/-
Tk. 1000000/-
2
Premier Pavilion (PP)
(50'x50′)
Tk. 15,000/-
Tk. 1500000/-
3
Foreign Pavilion (FP)
(50'x50′)
US $ 300
US $ 14500 (Fixed)
4
General Mini-Pavilion/Reserve Mini Pavilion (GMP/RMP)
(25'x25′)
Tk. 12,000/-
Tk. 600000/-
5
Premier Mini-Pavilion (PMP)
(25'x25′)
Tk. 12,000/-
Tk. 800000/-
6
Foreign Mini Pavilion (FMP)
(25'x25′)
US $ 200
US $ 9000 (Fixed)
7
Restaurant
(50'x50′)
Tk. 10,000/-
Tk. 1000000/-
8
Premier Stall (PS)
(18'x20′)
Tk. 6,000/-
Tk. 420000/-
9
Foreign Premier Stall (FPS)
(18'x20′)
US $ 100
 US $ 5700 (Fixed)
10
General Stall/Food Stall (GS/FS)
(15'x20′)
Tk. 6,000/-
Tk. 195000/- (Fixed)
Dhaka Trade Fair Contact address:
DITF 2018
Director
Dhaka Int'l Trade Fair-2018 Secretariat
Export Promotion Bureau, Bangladesh.
1, Kawran Bazar, TCB Bhaban (4th Floor), Dhaka-1215, Bangladesh.  link here