Swarighat, is a key wholesale fish market on the north bank of the Dhaka's main river Buriganga. It is one of the oldest markets established in the middle of nineteenth century. This is a unique wholesale fish market operates for only a few hours in the early morning.
The trader of other 24 big wholesales fish market of the capital as well as hundreds of nearer towns arrives here to purchase fish from about 700 fish stockiest locally called Adatdars. The fish for sale in the market are brought from all over the country. The average daily turnover of fish in the market is between Tk 2.5 and 3 million and the volume varies depending on the variation in catches during peak or off-season.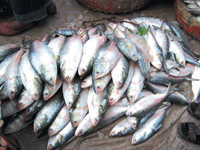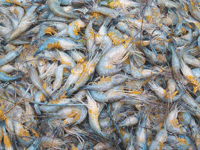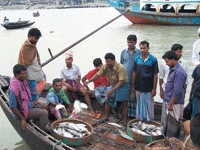 The name Swarighat directed from Farshi word `Swari', means passenger and Bengali `ghat' means river station. Till the seventeen century, this river station used by the people to cross the river as well as arriving or departing Dhaka. There is another cause of naming Swarighat. Previously this place was famous for renting Palki, a unique wooden manually bearing tool of newly married bride. The synonym of Palki is `Swari'. So the both meaning of `Swari' might behind naming Swarighat.
The fish for sale in the market are brought from all over the country including Cox's Bazar, Teknaf, Chalanbill, Chittagong, Mohanganj, Chandpur, Barisal, Bhola, Faridpur, Madaripur, Mohongonj, Kuliarchar, Jessore, Khulna and Satkhira. They come by steamers, launches, boats and trucks. Even imported and smuggled fishes of India and Mayanmer are also available here.
Customers of the market are small wholesalers and traders doing their business in different retail markets of Dhaka City including Karwan Bazer, Thathari Bazar, Mirpur and nearby towns like Jatrabari, Keranigonj, Nawabgong, Dohar, Savar, Narayanganj, Manikganj, Gazipur, Munshiganj etc.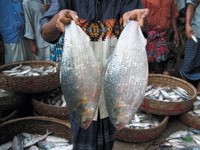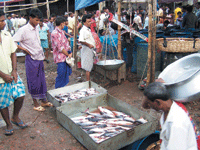 Till sun rises to 8 am Fish is traded mainly in open space. The fish trading system in the market is quite different from that in other markets. Medium and large size fishes are sorted by species and size and are sold in hali (four pieces) basis. Most small, and sometimes, the medium size fishes are sold in maund (37.6 kg) basis. Trading operations take place in various ways. Some buy and sell as wholesalers and others act as commission agents. Transactions are settled in cash payments and also the credit sale is widely practiced. In case of credit sales, the settlement of payments are made in a week or at the end of each business day.
The shattered roads and inadequate security are depriving the significance of the Swarighat day by day. Previously various types of fish were available at this wholesale fish market. Unwavering and negligence of the authority as well as dryness of embankments, those fish species couldn't survive. So fishers can't get those types of fishes let alone brought those to capital. Instead Exotic fish species introduced to Bangladesh to augment fish production. The major species of exotic varieties that have contributed substantially to commercial fisheries are the Chinese silver carp, grass carps, big-head carp, common carp, tilapia, catfishes, Thai magur, Thai pangas and rajputi. A vast majority of the 150 exotic species introduced into the country in the last 2-3 decades are mostly ornamental or aquarium fish.
Total fish production of Bangladesh is 1.61 million tons coming from open water capture fisheries (0.67 million ton), closed water culture (0.65 million ton) and marine fisheries (0.34 million tons).
Carps are by far the most important species in cultured fish production. Total carp production accounted for 88% of the total freshwater fish production in the country. About 88% of all fish species in pond culture are carps.
Bangladesh possesses a vast marine environment of 1.66 lakh sq. km. having abundant fisheries resources including 475 fish and 36 shrimp species. The main species caught are Spanish mackerel, tuna, India salmon, anchovy, croaker, snapper and grouper.