Name: Muhammad Habibur Rahman
Date of Birth: 3 December 1928
Education: BA (Honours) in 1949 and MA (History) in 1951 from Dhaka University; BA (honours) in 1958 and MA (Modern History) in 1962 from Oxford University.
Fellow of Bangla Academy & Asiatic Society of Bangladesh; Honorary Fellow of Worcester College, Oxford; and also Honorary Bencher of Honourable Society of Lincoln's Inn, London.
Chief Adviser of Caretaker Government : 31 March 1996 – 23 June 1996
Profession:
Lecturer: He Started career as a Lecturer in History of Dhaka University in 1952.

Dean: Faculty of Law, Rajshahi University in 1961, Reader in History from 1962 to 1964.
Dhaka High Court Bar: Assistant Advocate General in 1969, Vice President of High Court Bar Association in 1972 and Member of Bar Council in 1972
Judge: Judge of the High Court Division from 1976 to 1985, Judge of the Appellate Division of the Supreme Court from 1985 to 1995, Acting Chief Justice from 1990 to 1991) and as chief justice of Bangladesh in 1995.
International Conferences:
Participated the Conference of Chief Justices of Asia-​Pacific in Perth, Australia in 1991
Fourth Commonwealth Chief Justices Conference in Abuza, Nigeria in 1992,
First SAARC Chief Justices Conference in Kathmandu, Nepal in 1995.
Books: Justice Habibur Rahman is author of 70 books in Bengali on law, language, literature, poetry and religion and five books in English, including two books of verse.
List of some books: Law of Requisition (1966), Rabindra Prabandhey Sanjna O Parthakya Bichar (1968), Jatha-​Sabda (1974), Matri-​bhashar Sapakshey Rabindranath (1983), Qoran-​sutra (1984), Bachan O Prabachan (1985), Gangariddhi thekey Bangladesh (1985), Rabindra Rachanar Rabindra-​byaksha (1986), Rabindra-​kabyey Art, Sangeet O Sahitya (1986), On Rights and Remedies, Amara ki Jabo-​na Tader Kachhey Jara Shudhu Banglai Katha Baley (1996).
Award: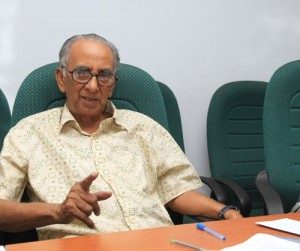 Justice Muhammad Habibur Rahman was awarded Bangla Academy Prize for Literature in 1985.
Died: 11 January, 2014 at age 85 years.
---
News:
Former chief adviser of Caretaker govt Justice Habibur Rahman died on January 11, 2014. Muhammad Habibur Rahman was dead at 9:53pm Saturday night at a Hospital in Dhaka. His Family members, relatives, friends, colleagues and thousands of admirers across the country mourned on his death when heard the news.
He was chief justice of the Bangladesh and then he was chief adviser of caretaker government in 1996 when country was in deep political crisis. Habibur Rahman guided the nation into the future, through taking the right path amid the confusion of the crossroads. Habibur Rahman's sense of judgment, served through the years as an interpreter of the law & its practitioner, came in handy.
Prime Minister Sheikh Hasina, President Abdul Hamid, BNP Chairperson Khaleda Zia and Chief Justice Md Muzammel Hossain expressed deep condolences at Justice Rahman's death.
Also a poet Habibur Rahman was born 3 December 1928. He left behind his wife and 3 daughters