Prime Minister Sheikh Hasina said the Myanmar refugee problem should be resolv
ed through amicable bilateral discussion between the two neighboring countries Bangladesh and Myanmar.  Hasina expressed the view while holding a meeting with Myanmar's President Thein Sein at the Presidential Palace in Nay Pyi Taw on March 3, 2014
---
Sheikh Hasina is now in Myanmar's capital on a 2days  visit to attend the third BIMSTEC Summit beginning from March 4.
There are about Thirty Thousand Rohingya refugees living in two camps in Cox's Bazaar, Bangladesh. According to the government of Bangladesh data suggest a further 500,000 or more are living outside the camps in Cox's Bazar area.
The previous Hasina government had decided to do a headcount to ascertain the number of illegal migrants, saying their long-term stay resulted in socioeconomic, political, environmental and security crises in Bangladesh.
Briefing reporters after the meeting, Prime Minister's special assistant Mahbubul Hoque Shakil said in the hour-long meeting in cordial atmosphere, the two leaders discussed various issues of common concern in bilateral as well as international matters.
Hasina said Bangladesh gives priority on maintaining stability in the region to ensure sustainable development.
Terming Myanmar as one of the closest neighboring countries, she said Bangladesh puts emphasis on further strengthening development cooperation and economic relations with Myanmar.
Terming poverty as the main enemy of the region, the Prime Minister said inter-state connectivity could play a significant role to alleviate poverty and such initiatives would be beneficial for all countries of the region.
She said Bangladeshi business communities are interested in investing in Myanmar, particularly in the food processing sector.
Laying emphasis on strengthening bilateral trade – very much insignificant so far, Hasina said increased trade would strengthen the economy of the two countries.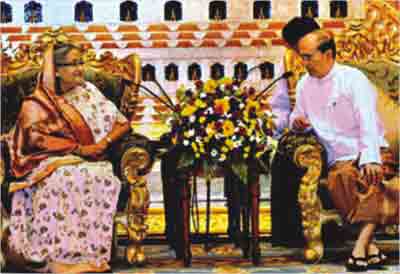 She mentioned that Myanmar is progressing very fast under the able leadership of President Thein Sein.
The Prime Minister invited Myanmar's President to visit Bangladesh at his convenience.
Thanking for the invitation, Thein Sein said he would visit Bangladesh at a convenient time.
Underscoring establishing connectivity in the region, President Thein Sein requested the Prime Minister of Bangladesh to join the India-Myanmar-Thailand connectivity system.
He said it would help these countries to increase the trade among the neighboring countries.
During the meeting, the Myanmar President congratulated Sheikh Hasina on her election as the Prime minister of Bangladesh for the third time.
State Minister for Foreign affairs Shahriar Alam, Ambassador at Large M Ziauddin, PMO Secretary Md Abul Kalam Azad, Foreign Secretary Shahidul Haque and Bangladesh Ambassador to Myanmar Anup Kumar Chakma were present.
Bangladesh PM met Myanmar's opposition leader Aung San Suu Kyi—the 2 leading ladies of the 2 neighboring countries who are working to give democracy a firm footing in their respective countries-met on March 3, 2014.