parliament elecion of Bangladesh is very important for Bangladeshi  politics. No need voting in 151 seats out of 300 parliamentary constituencies that will go to poll on Jan 5, which is a record of its kind in Bangladesh's electoral history.
The number of contestants in the remaining 149 parliamentary seats too is an all-time low, as has been evident from the preliminary list released by the Election Commission (EC) on Saturday.
The list was finalised based on the information received from the returning officers spread across the country.
---
As many as 151 candidates, out of over 550 candidates whose nominations were found valid, will win unopposed in the polls. Of them, 127 belong to the ruling Awami League.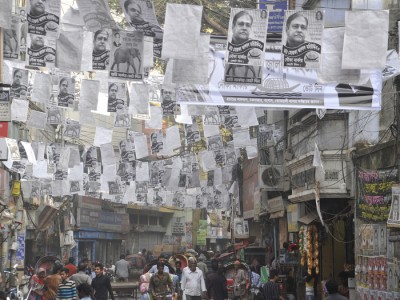 18 seats from Jatiya Party, 3 from JaSaD, 2 from Workers Party and 1 from Anwar Hossain Manju Jatiya Party.
The list of contestants in the remaining 149 seats was also published on 14 Dec, 2013.
Candidates will be allowed to start campaigning after they are allotted electoral symbols. They will be able to campaigns until the midnight of Jan 3.
According to the election schedule announced on Nov 25, Dec 2 was the last day for the aspirants to file nomination papers. Returning officers screened the nominations on Dec 5-6 and the EC heard the appeals of aspirants whose nominations were cancelled between Dec 7 and Dec 9.
The last day for withdrawal of nominations was Dec 13.
After the deadline ended, symbols were assigned to valid candidates of political parties and independent candidates who will contest the Jan 5 polls.
As many as 1,107 aspirants from 20 political parties and independent candidates had filed nominations by Dec 2.
Of the total 880 eligible aspirants, more than 300, including independent aspirants and those from 12 parties, withdrew their nominations by Friday, the last day for the withdrawal of nominations.
The remaining 149 constituencies will require balloting to determine who will go to Parliament.
A total of 300 nominations have been withdrawn. They include 149 from HM Ershad's Jatiya Party, 44 from ruling Awami League, 31 from independent aspirants, 19 each from Anowar Hossain Manju-led Jatiya Party faction and Jatiya Samajtantrik Dal, 10 from Bangladesh Islamic Front, seven from Bangladesh Workers Party, six each from Bangladesh Tariqat Federation and Bangladesh Nationalist Front (BNF), four from Bangladesh Jatiya Party, three from National Awami Party, two from Bangladesh Khelafat Majlish and one from Islamic Front Bangladesh.
Twenty registered political parties, out of 40 parties, had filed nominations to contest the national polls after the BNP-led Opposition had announced to boycott elections. A constituent of the Opposition alliance and two like-minded parties had submitted nomination papers.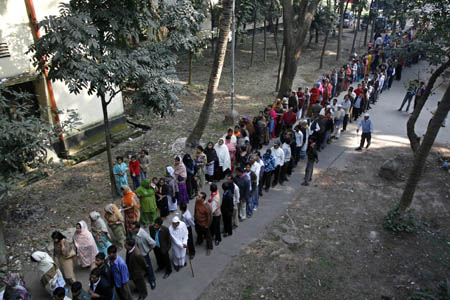 Until now, 16 parties are in the fray. They are — Jatiya Party (JP), Awami League, Ganatantrik Party, Bangladesh National Awami Party, Bangladesh Workers Party, Jatiya Party, JaSad, Bangladesh Tariqat Federation, Bangladesh Muslim League, Ganafront, Bangladesh NAP, Bangladesh Jatiya Party, Islamic Front Bangladesh, Bangladesh Khilafat Majlish, and Bangladesh Islamic Front.
This time, there are over 150 independent candidates taking part in the elections apart from over 400 party-backed aspirants.