All Bangladeshis all over the world love the Hilsa fish or Tenualosa ilisha(ilish) so much that we have it is their national fish. Bangladeshis the claim that Hilsa can be cooked in a 100s different ways.shorshe ilish is very popular among West Bengal and Bangladesh.
---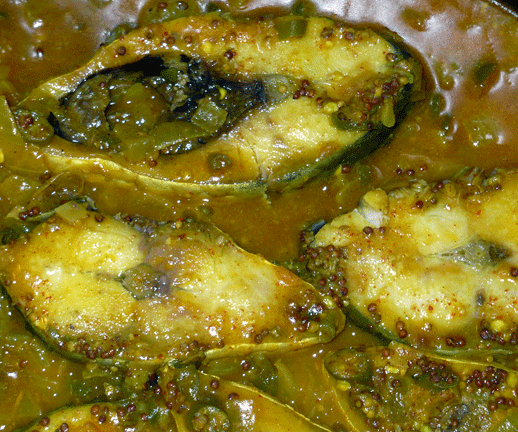 Ingredients
1 Ilish (Hilsha) fish, cut into steaks
1 tablespoon mustard (or ground mustard paste)
6 green chilis
1 teaspoon red chili powder
1 teaspoon turmeric powder
1 large onion, diced
2 tablespoons oil, mustard oil preferred
Salt to taste
Steps
Rub some salt and turmeric on the fish steaks and set aside
If you use whole mustard seeds, ground them into a paste along with the green chili and a tablespoon of water
Heat the oil in a flat bottomed pan
Saute the onions until light brown
Add the mustard/chili paste and rest of the spices and striy fry 2-3 minutes
Add 1/2 cup of water, making sure you scrape any spices that are stuck to the bottom of the pan
Add the fish steak and cook covered over medium heat for about 10-minutes
Flip over the fish and cook covered another 5 minutes until excess water has evaporated
Check for salt and sprinkle additional salt if necessary
Now ready to serve to your dearest one
Shorshe Ilish
This dish is one of the ancient dish of Bangladesh.If you can not taste it you miss this dish.Its play on pahela boishakh.The people of Bangladesh make this dish on special occasion.it also serves in  grand resturents.One day we went the ruposi Bangla, our menu was Shorshe Ilish with rice. That was really super taste. When the foreigner comes to us we serve them this delicious food.