Freelancer.com and oDesk.com base training
You should know few internet base that is available and can be done through freelancer and odesk. As an IT professional you have huge opportunities to get Job and contractual works and earn $$$ dollar per month easily. But You should know the work very well. To know and learn frelancer and odesk base work visit this link. Freelancer.com and oDesk.com training


Game playing laptop price in Bangladesh

You should not use your personal PC or office laptop to a video game. To play a video game in a Laptop your laptop should be configured for high performance in graphic card, processor, ram, etc. Without having high performing built-in hardwires your laptop will stop, hang even damage seriously. Technology News in Bangladesh

2 arrested in connection with Nurul Islam Faruqi murder

Mowlana Nurul Islam Faruqi was murdered in his East Razabarzar residence on August 27, 2014. Nurul Islam Faruqi was a chief imam of the Supreme Court mosque in Dhaka. Nurul Islam Faruqi was the International Affairs Secretary of Ahle Sunnat wal Jammat and Presidium member of Bangladesh Islami Front. Faruqi also owned a Hajj Agency Business name "Faruqi Tours and Travels Pte Ltd. Shaikh Nurul Islam Faruqi




over Population is the main problem of Bangladesh

Bangladesh is a small country of 147570 sq. km but its population density is higher than any other same area country.. More than 1500 people live in a sq mile. Population is the main problem of Bangladesh. Bangladesh is the 7th most pupulus country in the world. Population problem creates shelter problem, education problem, communication problem, food, health and many problems. Bangladeshi population problem



Eid ul Fitr is the largest reli­gious festival of Muslims around the globe. Muslims start Eid-ul-Fitr day with offer­ing Eid prayer. The main Eid Jammat is held at National Eidghah in supreme court area of Dhaka at 8 : 30 am (appox) . Eid ul fitr congregation(Jamaat) is also held in Baitul Mukarram Mosque in Dhaka. President, Ministers, state ministers, Justices, Political leaders, diplomats of muslims coun­tries, government official, businessmen, civil and military official offer their Eid ul Fitr prayer in National Eidgah... Eid-ul-fitr 2014 in Bangladesh
---
Player Shakib Al Hasan wife photo


BCB again banned Shakib Al Hasan for six month for breaking rules. Shakib Al Hasan also will not able to play in other country for 18 months. Bangladesh Cricket Board President Nazmul Hasan Papon MP said in a press briefing on 7 July 2014.
Shakib Al Hasan had gone to play Caribbean Premier League without taking proper permission from BCB...
Shakib Al Hasan wife shishir

Bangladesh budget for 2014 – 2015, 7.5% GDP


Narayanganj killing case - RAB-11 involvement
Panel Mayor of Narayanganj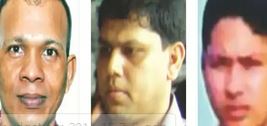 City corporation Nazrul Islam, his 4 assistants Swapan, Tajul Islam, Liton and Jahangir; advocate Chandan Sarkar and his Driver Ibrahim were abducted near KS Osman Ali Stadium of Fatullah, Narayangonj ..Narayanganj Murders
.