Details

Cat­e­gory: Bangladesh
Pub­lished on Sun­day,

09

August

2009

10

:

37

Hits:

27903
Hilsa fish or ilish fish any of the mem­bers of the genus
Ten­u­alosa
of the fam­ily
Clu­pei­dae
, order
Clu­peiformes,
sci­en­tific Species
Ten­u­alosa ilisha
. Bangla name is Ilish, the Hilsa fish has been des­ig­nated as the
national fish of Bangladesh
. Ilish fish body is strongly com­pressed
&
mod­er­ately deep with dor­sal and ven­tral pro­file equally con­vex. The upper jaw of Hilsha fish has a dis­tinct median notch. Reg­u­larly arranged medium-​sized scales cover the metal­lic silver-​colored body. Ilish fish body length may reach up to
60
cen­time­ter or
24
inches, but com­monly found spec­i­mens mea­sure
35
to
40
cen­time­ter or
15
inches of Ilish in Bangladesh.
A large-​sized Hilsa or Ilish weighs about
2
.
5
kilo­grams. Females Hilsa grow faster and are usu­ally larger than males ilish. The hilsa fish is known to be a fast swim­mer, and Ilish fish attains matu­rity in one to two years.
Where found Hilsa fish

Ilish or Hilsa fish has a wide range of dis­tri­b­u­tion and occurs in marine, estu­ar­ine and river­ine envi­ron­ments of Bangladesh. The Hilsa fish is found in the Bay of Ben­gal of Bangladesh , India and Myan­mar area. Hilsa also found other sea like Per­sian Gulf, Viet­nam Sea Ara­bian Sea, China Sea. and Red Sea. The Ilish habi­tat in the Padma, Meghna, Jamuna, Kar­na­fully and other coaster rivers of Bangladesh is very tasty. The Hilsa also found East­ern & West­ern Rivers of India, the Indus of Pak­istan, Satil Arab, and the Tigris & Euphrates of Iran and Iraq and the Irrawaddy River of Myanmar.
Hilsha fish life and Breeding
The Hilsa fish is anadro­mous, with a life cycle that fol­lows the gen­eral breed­ing pat­tern upstream in fresh water of chan­nels of the Padma, Meghna, Kar­na­fully, Jamuna and other rivers of Bangladesh. Ilish lar­vae hatch­ing from the free-​floating eggs. The imma­ture hilsa in the early life grow in river chan­nels of Bangladesh and then descend to the Bay of Ben­gal for a period of feed­ing & growth before return­ing to the rivers as mature breed­ing adults to com­plete the cycle.
The Ilish is a highly fecund fish. A large-​sized female hilsa may pro­duce about 2 mil­lion eggs. Although hilsas fish spawn more or less through­out the year, they have a minor spawn­ing sea­son is from Feb­ru­ary to March and a major sea­son is from Sep­tem­ber to Octo­ber of the year in Bangladesh. Small hilsa fish 2 inches to 4 inches ( 6 – 10 cen­time­ter ), known as Jatka, are strictly pro­hib­ited to catch dur­ing their sea­ward sea­son in all rivers and coastal area of Bangladesh.
Hilsa Food :
Hilsa is pri­mar­ily a plank­ton feeder and its food includes diatoms, blue-​green algae, clado­cera, desmids, cope­pods, rotifers, etc. The feed­ing habit may vary accord­ing to the sea­son, age and liv­ing envi­ron­ment of Hilsa.
Frozen hilsa fish export from Bangladesh
About 60% of Hilsa fish of the world found in Bangladesh. Hilsa pro­duc­tion is 16.4 % (appx.) of total fish in Bangladesh. Bangladesh export Hilsa to India, Mid­dle East, Europe and Amer­ica. This frozen fish export is increas­ing sig­nif­i­cantly and has an impor­tant role to the econ­omy of Bangladesh in recent year. It is esti­mated that about 2 mil­lion fish­er­men and traders are engaged in hilsa fish­ing in the country.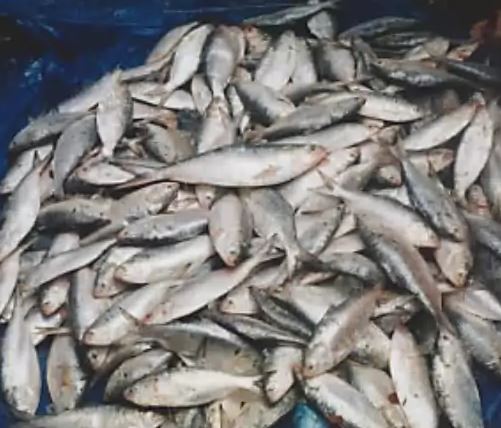 Hilsa or Ilish fish price in Bangladesh
1 kilo­gram hilsa fish price is Tk. 500 to Tk. 1000 per piece in local mar­ket of Bangladesh. Dur­ing Pohela Boishak or Puja Ilish price go high to Tk. 1000 to 2000 taka per piece.
Ilish Maach Curry and Panta Ilish
Bangladeshi peo­ple like mouth­wa­ter­ing 'shorshe ilish' dish very much, it is very tasty Ben­gali Cui­sine dish. This hilsa dish is cooked by slices of ilish, mus­tard seed, onion and spices with smoke fire. Panta Ilish (Fried slice hilsa fish, chilies, onions, dried fish paste) is a tra­di­tional food of Ben­gali, espe­cially in the first day of Bangla New Year "Pohela Boishakh". There are many more pop­u­lar Hisla recipes in Bangladesh and India.
---
Hilsa is locally called Macher Raja, King of fish. Its flavour, oily tex­ture, taste­ful­ness made its Raja or KING.
Catch hilsha fish in the river.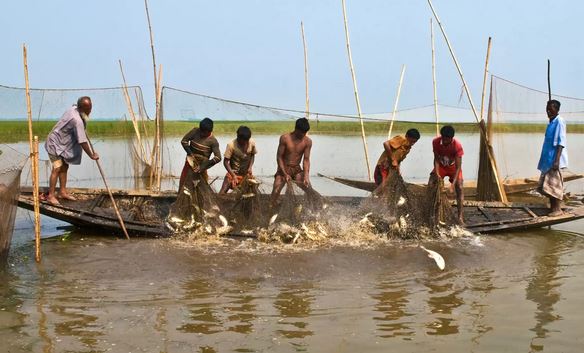 It is not so easy to catch hilsha fish from the river. Fish­er­men can do that because they can drive to the deep of the river. And nor­mally hilsha fish not avail­able near the bank of river to catch by arma­ture fishermen.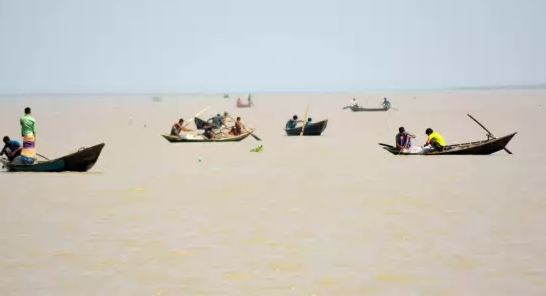 Ilish fish Curry (Hilsa curry)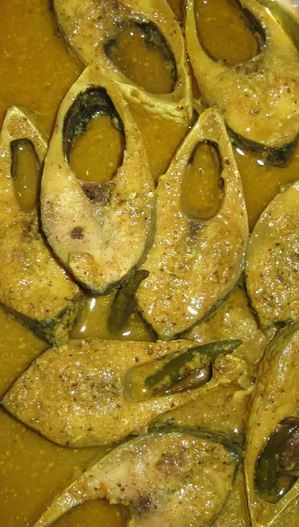 Every Ben­gali peo­ple like this curry and very easy to pre­pare.
Ingre­di­ents for cook­ing hilsha fish curry
— Cut hilsh fish into think pices.
— 1 table spoon black cumin seeds (kolo­jeera)
— 0.5 table spoon turmeric pow­der (halud)
— Green chilies 4 – 6
— 1 table spoon mus­tard oil (soy­abean oil also can be used)
— Salt to taste.

How to cook hilsha fish curry?
- Fry fish pieces until becomes golden brown and take it down for a white.
— In a pot, pour 1 table spoon oil and heat. Add 1 table spoon cumin seeds to be crack­led.
— Add about a cup of hot water, 0.5 turmeric power, salt as need and stir. Heat for 5 – 6 min­utes.
— Mix hilsha slices into it, cut green chill­ies and add
— cook for 10 – 20 min­utes
— Check salt test and take.
— Hilsha dish is ready to server.
There are dif­fer­ent curry that Ben­gali fam­ily like to cook reg­u­larly like Hilsa Fish Fry, Hilsa Fish Bhapa, Hilsha Fish Jhol, Shorshe Ilish, Lau Ilish, Kachu Ilish, Pan­tha Ilish, etc.
Hilsha fish photo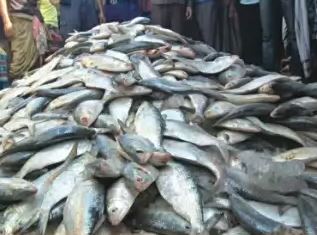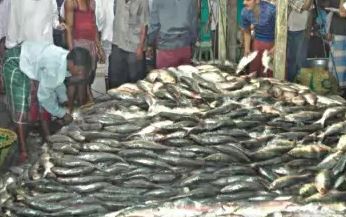 Hilsha fish pic­ture

Hilsa is one of the for­eign cur­rency earn­ing Bangladeshi fish. This Bangladesh fish export Asian, Europe, Amer­i­can coun­try and earn huge for­eign cur­rency every year. We should take many other steps to top catch­ing Elish fish dur­ing breed­ing sea­son.