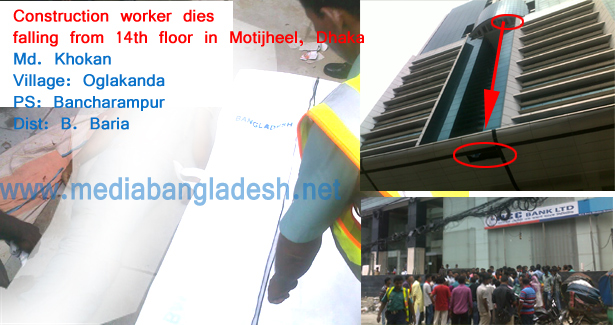 A con­struc­tion worker name Md. Khokan (38) was died falling from 14th floor of a high rise build­ing in Moti­jheel of Dhaka city. The inci­dent hap­pened on Sat­ur­day at 12:15 noon near Shapla Chat­tar of Motijheel.
Khakon was work­ing at 14th floor to fix out­side glass by stand­ing on a fly wood board which was bro­ken and he has fallen down, died on the spot. His head was injured seri­ously and legs have bro­ken. He is from Oglakanda vil­lage of Ban­charam­pur Police Sta­tion of B. Baria.
Police found a mobile set, money bag in his pocket and his ID card.
Khokan did not use any safety belt or hel­met while he was work­ing, said a con­struc­tion worker. Police per­son­nels from Moti­jheel Police sta­tion rushed to the spot and asked few work­ers about the incident.
Con­tract­ing com­pany should not allow any worker to work with­out safety boot, safety belt or hel­met. These kind of work­ers do not care about their life but want to com­plete the assigned work is any situation.
Every day we heard this news that worker dies fallen from high rise build­ing in Dhaka and other areas of Bangladesh. Con­trac­tors may be wants to com­plete his site in time. Nobody care about these con­struc­tion work­ers life, there is no pun­ish­ment after hap­pen­ing these inci­dents, again worker start work. Work­ers do not care also. Worker should think about their valu­able life.
Every con­struc­tion site should has safety con­sul­tant, safety offi­cer would be on the round­ing duty from ground to top floor to check who is vio­lat­ing safely rules. In devel­op­ment coun­try, nobody is allowed to go inside the con­struc­tion site with­out helmet.
Orga­ni­za­tions and asso­ci­a­tions related to build­ing con­struc­tion should take ini­tia­tives to make aware­ness to let work­ers under­stand impor­tance of safety inside under con­struc­tion site.