Dhaka city history: Dhaka is the Capital of Bangladesh. It is said to refer the Word Dhaka came from the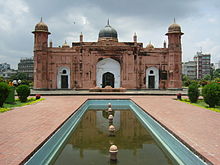 "Dhak Tree" (beautiful Palash flower tree), once many trees exist in the area; Or from the Bengali word "Dhak" (instrumental sound) or originated for "Dhakeshwari" (a Hindu temple by Ballal Sena). In 7th century, the settlement was started in this area by the Buddist Kingdom of Kamarupa and Pala Empire. The control of Dhaka was gone to Hindu Sena dynasty in the 9th century. Few shops in Lakshmi Bazar, Tanti Bazar, Kamurtuli, Shankhari Bazar, Bania Nagar and Goal Nagar was the heart of old Dhaka.

In 1576, The Mughal Empire took the control of this area and developed many mosques, forts, universities, etc. Subahdar Islam Khan was the first Administrator of the city who changes the city name to "Jahangir Nagar in honor of Emperor Jahangir. Jahangir Nagar was dropped soon after the death of Emperor Jahangir.
Capital of Bangladesh
Dhaka Location : North: 23°22'30" to 24°22'20" And East : 89°41'6"  to 90°21'23". It is situated almost middle of Bangladesh Dhaka City Map
Dhaka City Area / Size : 1463.60 Sq. Km.
Dhaka Population : 1,25,17,361 people
Male : 68,13,463 people
Female : 57,03,908 people
Educated : 70.50 %
Density of Dhaka City : 8229 per sq. km
Growth of Population : 3.48%
Temperature of Dhaka City: Summer 36.7° c 21.1° c , Winter 31.7° c 10.5°c
Rainfall : 2540 mm annually.
Humidity : 80 per cent (approx)
Languages : Bangla, English widely spoken and understood.
Currency: Taka (BDT)
Ethnicity: Bengali 98%, other 2% (includes tribal groups, non-Bengali Muslims)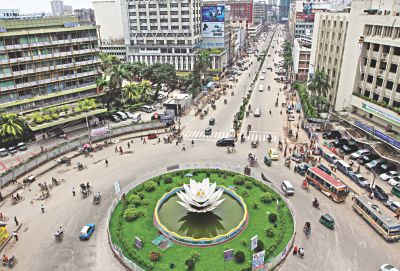 Upazila in Dhaka: 5
Metropoliton Police Station in Dhaka city : 41
City Corporation : 2
Municipality : 3
Union Parishad : 86
Mouza : 974
Villages: 1999
Ward : 92
Parliament Seats in Dhaka City: 20
Colleges in the capital of Bangladesh : 167
High School : 479
Madrasa : 165
Government Primary School: 728
Private Primary School : 689
Mosques in Dhaka city : 3088
Temples : 808
Churches : 33
Rivers are in the Capital of Bangladesh :
Dholeshwari ,
Buriganga,
Bongshi,
Turag,
Balunadi
Working force : 50%of the population aged 10 years and above are in gainfull employment.
*Informal Activities : 24%
* Household Work : 28%
*Other Services :25%
*Unemployed : 23%
Garments Works and Household Work (Woman) : :0.8 million.
*Per Capita Income :US$ 550
*Literacy Rate : 63.2%
Graveyard in Dhaka City :
Banani Graveyard
Khilgaon Taltola Graveyard
Mirpur Buddijibi Kabarstand
Azimpur Graveyar
---
Bangladesh Capital attractions
National Mosques : Baitull Mukarram
Hindu Temples in Dhaka city: Most popular hindu temples are Dhakeshwari Temple (11th Century), Ramkrishna Mission.
Churches in Dhaka City: Popular Churches are Armenian Church (1781 A.D.) St. Mary's Cathedral at Ramna, Church of Bangladesh or former Holy Rosary Church (1677A.D.) at Tejgaon.
Bangabandhu Memorial Museum in Dhaka: It was the residence of  Bangabandhu Sheikh Mujibur Rahman at Dhanmondi has been turned into a musuam.
Curzon Hall : Beautiful architectural building named after Lord Curzon.  Science Faculty of Dhaka University at Karzon Hall.
Old High Court Building : Originally built as the residence of the British Governor, it illustrates a happy blend of European and Mughal architecture.
Dhaka Zoo :  Mirpur Zoo.
Botanical Garden : Botanical Garden situated on an area of 205 acres of land at Mirpur and adjacent to Mirpur Dhaka Zoo.
National Park : Situated at Rejendrapur, 40 km. north of Dhaka city , this is a vast (1,600 acres) national recreational forest with facilities for picnic and rowing etc.
Shahid Minar
National Poet's Graveyard : The poet Kazi Nazrul Islam died on the 29 August 1976 and was buried in the  graveyard is adjacent to the Dhaka University Mosque.
Mausoleum of National Leaders : the mousoleum is located at the southwestern corner of Suhrawardy Uddyan, it is the eternal resting place of great national leaders, Sher-e-Bangla A.K. Fazlul Haque, Hossain Shahid Suhrawardy and Khaja Nazimuddin.
Banga Bhaban : The official residence of the President of Bangladesh, near Motijheel area of Dhaka city.. One can have an outside view of this grand palace.
Ramna Green: A vast stretch of green garden surrounded by a serpentine lake near the Sheraton Hotel.
Parliament House : Jatiya Sangsad Bhaban (Parliament House of Bangladesh) located at Sher e Bangla Nagar has distinctive architectural features. the Assembly building was designed by the famous architect Louis I. Kahn, it may be called an architectural wonder of this region.
Science Museum : The museum is a modern learning center related to the latest scientific discoveries. Science Museum is situated at Agargaon of Dhaka.
National Memorial : It locates at Savar, 35, km. from Dhaka city. The memorial designed by architect Moinul Hossain is dedicated to the sacred memory of the millions of unknown martyrs of the war of liberation.
Sonargaon : A Folk Arts & Crafts Museum
Amusement parks in the capital of Bangladesh
---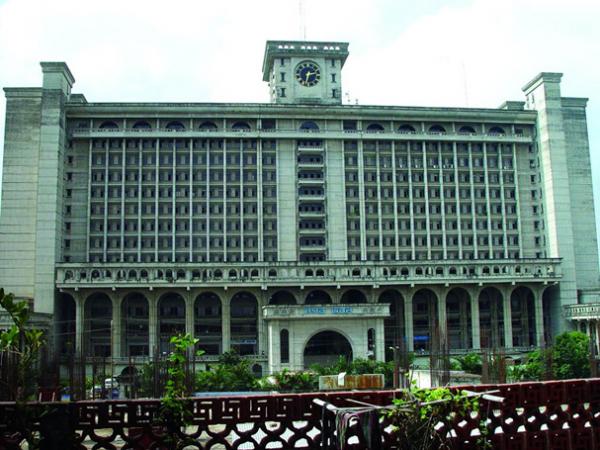 Dhaka South City Corporation
And
Dhaka North city Corporation
Information Bangladesh capital
Dhaka City Established on

Name at that time

Establishes under

First Chairman

First elected Chairman

Corporation Statute

Upgraded in to City Corporation

First Mayor

(by Commissioners)

First Elected Mayor

Second Elected Mayor

Number of Wards

Number of Wards Commissioners

Number of Elected Women Ward

Commissioners

Area of Dhaka City

No. of Project

Total Budget of the Projects

Total Budget of DCC (2003-2004)

Population in Dhaka City corporation

Number of Officers/Staffs

Road in Dhaka City

Drains in Dhaka City

Sewerage in Dhaka City

Footpaths in Dhaka City

Roads Media

Foot over Bridges in Dhaka City

Hydraulic Ladders

Wireless Set

Collage

Satellite School

No.of UDC

City Museum

: 1 st August 1864 .

: Dhaka Municipal Committee.

: District Municipal Improvement Act, 1864.

: Mr. Skinner District Magistrate

: Roy Bahadur Ananda Chandra Roy (1885-1885).

: Dhaka City Corporation Ordinance, 1983.

: 1990.

: Barrister Abul Hasant .

: Mr. Mohammad Hanif (Late)

: Mr. Sadek Hossain Khoka

: 92

: 360 sq.km.(Approx)

:

: 1318.98 crore taka

: 762.9 Crore taka (estimated)

: 6 million

: 11000

: 1968 km.

: 2460 km

: 1431 km

: 163 km

: 200 km.

: 19

: 1

: 103

: 1

: 100

: 1

: 87
List of Police stations in Dhaka
Bangshal
Badda
Cantonment
Chackbazar
Daskhinkhan
Demra
Darussalam
Dhanmondi
Gulshan
Gandaria
Hazaribag
Jatrabari
Kadamtoli
Kafrul
Khilkhet
Kalabagan
Kamrangirchar
Khilgaon
Kotwali
Lalbag
Mirpur
Mohammadpur
Motijheel
New Market
Paltan
Pallabi
Ramna
Rampura
Shahbag
Sherebanglanagar
Sabujbag
Shah ali
Shyampur
Sutrapur
Turag
Tejgaon
Tejgaon I/A
Uttara
Uttarkhan
Wari
[amaplug_bestseller keyword="dhaka population" style="dark yellow" items="3″]
m r