The new cabinet Ministers of Bangladesh government was sworn on January 12, 2014 by President Abdul Hamid at his office-cum-residence Bangabhaban.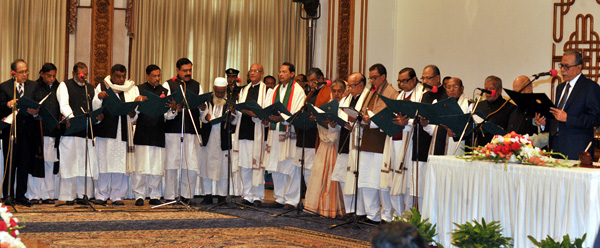 Awami League chief Sheikh Hasina sworn as prime minister and will head the 49 member cabinet which includes 29 ministers, 17 state ministers and two deputy ministers.
List of ministers of Bangladesh new Government are-
---
MINISTERS in Bangladesh
Awami Leagure (AL) – 45
Sheikh Hasina – Prime Minister

Abul Maal Abdul Muhith – Ministry of Finance
Amir Hossain Amu – ministry of industries
Tofail Ahmed – ministry of commerce
Matia Chowdhury – Ministry of agriculture
Abdul Latif Siddiqui – (Suspended).
Mohammad Nasim – Health Minister.
Eng Mosharraf Hossain – Ministry of LGRD.
Prof Motiur Rahman – Religious Affairs.
Syed Ashraful Islam – –  Housing and Public works.
Asaduzzaman Khan –  Home Minister.
H Mahmud Ali – Foreign Minister.
AHM Mostafa Kamal – Planning.
Obaidul Quader – Ministry of Communication (AL Secretary Geneal)
Nurul Islam Nahid – Education
Shahjahan Khan – Shipping
Adv. Anisul Haque – Law Minister
Mofazzal Hossain Chowdhury Maya – Disaster management and relief
Mujibul Haque – Railway
Asaduzzaman Noor – Cultural Affairs
Nurul Islam  – Expatriates' welfare
Mozammel Haque – Liberation war affairs
Narayan Chandra Chanda – Fisheries and livestock (Md Saiyedul Haque Died)
Imaj Uddin Paramanik – Jute and Textile
Mustafizur Rahman – Primary and mass education
– Social welfare ( Sayed Mohsin Ali Died)
Shamsur Rahman Sharif – Land
Adv. Qamrul Islam – Food ministry
Jatiya Party -1
Anisul Islam Mahmud – Water resources ministry
Workers Party – 1
Rashed Khan Menon – Civil Aviation and Tourism
Jatiya Samajtanktrik Dal -1
Hasanul Huq Inu – Information Minister
JP-Manju -1
Anwar Hossain Manju – ministry of environment and forest
STATE MINISTERS
Awami League
Yeafesh Osman – Science and technology
MA Mannan – Finance
Mirza Azam – Textile and jute
Promod Mankin- social welfare
– fisheries and livestock
Bir Bahadur – hill tracts
Biren Shikder – Youth and sports
– home ministry
Saifuzzaman Chowdhury – Land
Ismat Ara Sadek – Primary and mass education
Meher Afroz – Women and children
Md Shahriar Alam – Foreign
Tarana Halim – Telecommunication Minister
Zahid Malek – health and family planning
Nasrul Hamid – P ower and energy
Zunayed Ahmed Palak – ICT Minister
Jatya Party
While Md Mujibul Haque Chunnu – labour and employment
Mashiur Rahman Ranga – LGRD
DEPUTY MINISTERS In Bangladesh
AL

Abdullah Al Islam Jekob – water resources
Arif Kahn Joy – youth and sports